Meet Jacklyn Stewart, the "Color Goddess"! She is truly a jewel in the crown of the prestigious Atlanta-based Carter-Barnes Salon. Jackie is as effervescent and brilliant as the color she applies to her numerous clients' hair, and with over 25 years of experience, she is well-versed in all the aspects of changing the hue of your 'do.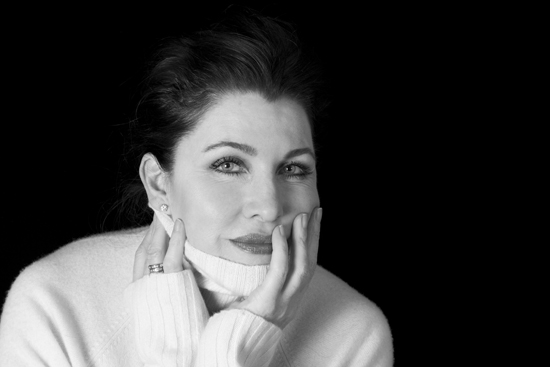 The second-oldest of seven siblings, and with her father in the army, her family traveled all around the world, but finally settled down in South Georgia where he retired and purchased three newspapers. She worked in the family business of journalism and during that time, she nurtured her creative side. Due to this exposure, Jackie initially felt that she would end up in marketing, but the artsy side of her was slowly developing, and before long, she would find an outlet in the hair color industry.
"My best friend in Brunswick told me that I could "see" color," Jackie recalled. Her friend saw early on Jackie's potential in choosing the perfect hair color for people and encouraged her to enroll in beauty school. Shortly after becoming a Master Cosmetologist, she was offered and accepted a position with the well-known hair color manufacturer, L'Oreal' Paris.
During the next ten years she traveled both nationally and internationally, using her immense talent to train stylists to become colorists. Jackie worked with many of today's "elite" stylists, including Carey Carter, Mitchell Barnes and Perri Higbie, co-owners of Atlanta's premier Carter Barnes Salon. Jackie eventually set down roots in Buckhead and went to work at Carter-Barnes on Paces as a color specialist.
Her extensive working knowledge of hair color has earned her respect not only with her current Carter-Barnes coworkers but with former L'Oreal colleagues as well. Her client base includes a beautiful, diverse mix of old and new Atlantans, socialites, working women, stay-at-home moms, and even a few gentlemen visit Jackie regularly. As most great stylists and colorists in Atlanta, she has worked with Hollywood's finest when they come calling. Anyone who has been lucky enough to receive the touch of the "Color Goddess" knows that with hair color, Jackie is like a fine artist with hair as her canvas and L'Oreal's brilliant color line as her medium.
"The beautiful thing about color, in spite of how complicated it looks," she said, "is that there are really only four things you can do to hair with color." Hair can be lightened, darkened, you can cover gray, and change the tone. "With a true understanding of these four simple techniques, I can manipulate your color to be from simply elegant sun-kissed highlighted to the ever trendy 'ombre'– and every effect in between." Clients may want to take away gray or have the colorist give them a more blended effect. Some wish to go from blonde to black, and some the reverse. Regarding color corrections, whether a small adjustment or full repair, Jackie cautioned, "Never promise more than you can deliver." The quality and condition of a client's hair truly determine its limits. A great colorist must decline doing too much if the hair is already compromised or over-processed.
Jackie's longtime assistant, Tiffany Anderson, has worked closely with the Color Goddess at Carter Barnes on Paces for over eight years. "I truly could not do all that I do without her by my side," Jackie says.
Jackie absolutely loves her job and knows that this is what she was meant for. "I wake up every day excited to go to work," she enthusiastically related. "There aren't too many people who can really say that." She directs the passion for her craft into constant dedication, showing up, being there for her clients and coworkers alike, and doing the right thing. Her ebullient spirit is contagious, and she not only lights up her clients' locks, but also their lives.
Contact Color Goddess today!